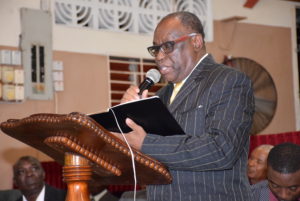 Matthew 6: 16 "When ye Fast, be not , as the hypocrites."
Precious Saints our meditation comes from Matthew 6: 16 "When ye Fast, be not , as the hypocrites."
Please note that Jesus never said, "If you fast". In verse 7 He says , " When you pray". Just like how prayer is not optional, likewise fasting cannot be optional. Jesus Himself fasted  Matt 4:2 . Moses fasted, Elijah fasted , Daniel fasted Dan 10:2-3.
What then is Fasting?
Fasting is abstaining from food for spiritual purposes. There are occasions in the Bible when people did fast without food or water for as long as forty days. In Esther 4:16 , She says ," Go gather all the Jews and fast for me, and neither eat nor drink three days." That's 72 hours without fluid. Doctors advice that we don't go beyond that without fluid.
Daniel practised what is called Partial Fast Dan 10:2-3.  For 21 days he abstained from: pleasant bread, meat, wine and anointing of himself. He did this for spiritual mourning.
In 1 Cor 7:5 Paul says : " Defraud ye not one the other, except it be with consent for a time , to give yourself to fasting and prayer." Hence fasting involves more than just abstaining from food. It's a period when you give God your undivided attention and affection .
Isaiah 58 is a great passage on FASTING. We must pay close attention to this passage.
Fasting is to:
Loose the bands of wickedness , to undo heavy burdens, to let the oppressed go free, to break yoke, to use your meal money to feed the hungry, and clothes the naked.
Here are somethings that will happen in your life when you fast verse 8-12
Your light shall break forth, your health shall spring forth speedily. Please read the other benefits. Oh hallelujah . Many of God's children are no longer like a well watered garden because they no longer Fast and Pray.
Daniel and his three friends looked fairer and fatter in flesh than those who ate the King's meat. Dan 1:12-15. Jesus says: " Man shall not live by bread alone, but by every word that proceedeth out of the mouth of God." Matt 4:4. This means that we must have period when we put away the physical bread and spend time eating the spiritual bread.
God bless you as we will continue on this very important subject of Prayer and Fasting.
St Matt. 9:21 "This kind goeth not out but by prayer and fasting."
Precious Saints our meditation comes from St Matt. 9:21 "This kind goeth not out but by prayer and fasting."
The calling is for the return of Fasting and Prayer in the church.
Jer 6:16 "Thus saith the Lord, Stand ye in the ways, and see, and ask for the old paths, where is the good way, and walk therein, and he shall find rest for your souls."
All Jews fasted on the Day of Atonement Lev. 16: 29-31.
The early church fasted before sending out the Apostles Acts 13:2-3.
They fasted before they appointed leaders Acts 14:23.
John Wesley never ordained a man unless he would commit himself to fast every Wednesday and Friday until 4:00pm. No wonder the Methodist church spread rapidly.
Today I give seven purposes of Fasting :
1. To humble yourself Ps 35:13.
2. To come closer to God. James 4:8
3. To seek God's will Ezra 8:21.
4. To seek healing Isaiah 58:8 , Matt 17:21.
5. When we need God's intervention in a particular crisis 2 Chron 20, Joel 2.
6. To intercede for others Matt 17:21.
7. To give rest to the body. Isaiah 58:3-14. See Lev 26:33-35. When the Jews refused to rest the land , God scattered them so His land could get rest. Both the land and our bodies need rest. Fasting is great way to rest the body especially the digestive system.
We will continue on the study of fasting. Please let's return to what made the church strong in the past. Jamaica is in serious crisis like Nineveh . Like that great city let's get back to Fasting and prayer. Jonah 3:5-10.
God bless you richly.